The Enchanting Gullfoss Waterfall
Gullfoss
I love waterfalls and was thrilled to be able to visit the wonder that is Gullfoss, albeit in the early hours of the morning when, for a few short minutes, the light seemed to enhance the fairytale nature of the enchanting Gullfoss waterfall in southern Iceland.
Gullfoss, which translates as Golden Falls, is a sight to behold.
Iceland Waterfalls
Iceland is often referred to as the land of waterfalls. It should be no surprise that Iceland waterfalls are amongst the island nations top places to visit.
Many folks include a visit to Gullfoss waterfall as part of a short stopover in the country and place Gullfoss, regarded as one of the top ten waterfalls in the world, right at the top of their favourite Iceland tourist attractions.
Gullfoss is actually two waterfalls in one. The upper level being 11 meters high while the lower level features a drop of 21 meters down to the raging Hvítá (i.e., White River) below.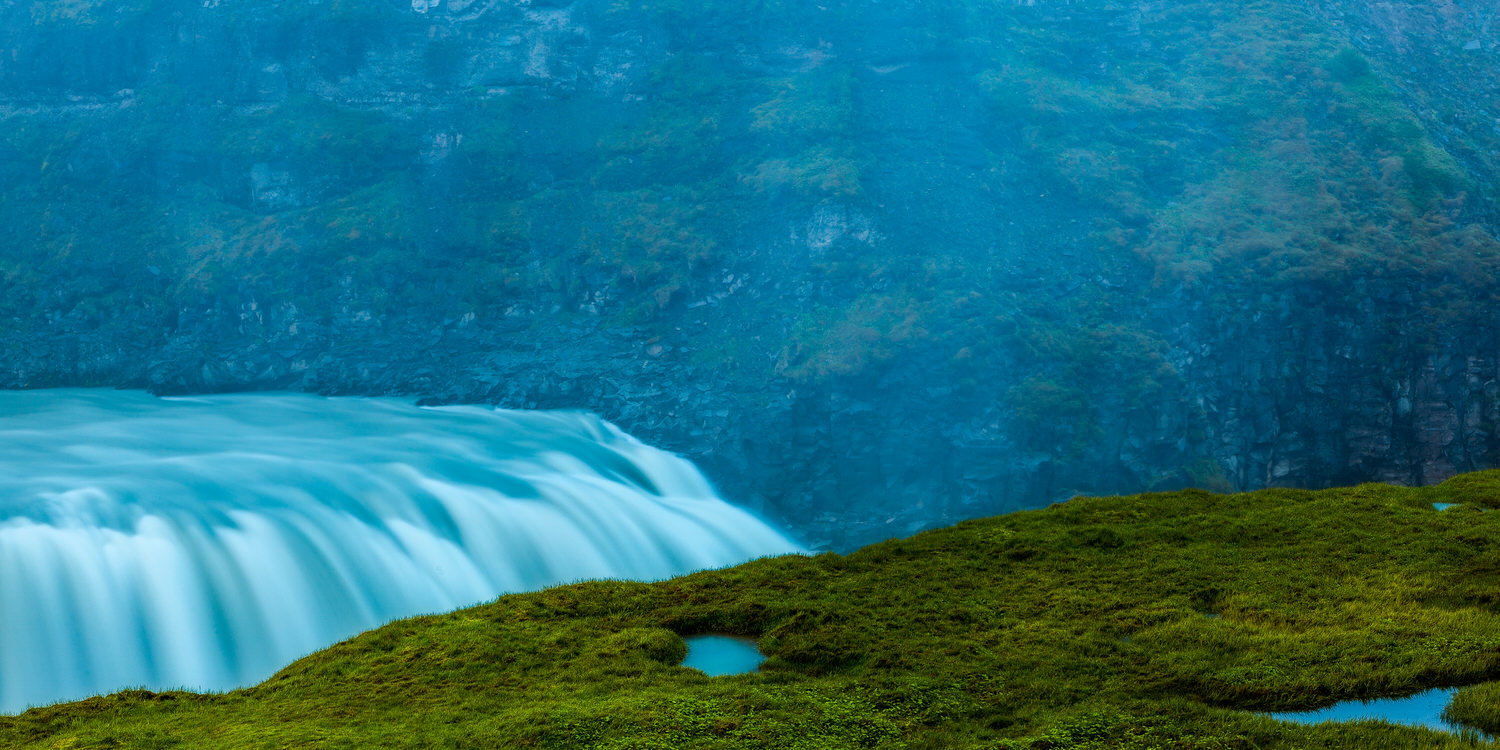 How to Get to Gullfoss Waterfall in Iceland
At only around 140 km from the capital, Reykjavik, Gullfoss waterfall is easy to get to being just off the country's main ring road, also known as Route 1, the main highway around the island.
Gullfoss is one of the main attractions on the hugely popular Golden Circle and, situated just a short walk from a sizable carpark, Gullfoss gets lots of visitors.
If photography and immersion in nature are important to you I strongly suggest, to avoid the worst of the crowds, that you arrive either early or late in the day.
The waterfall is around a 10 minute walk from the carpark.
After descending down a short flight of stairs it's a simple matter of walking along an often slippery path, at a slight uphill gradient, to the top of the falls where most folks gather to make their photos.
While often slippery, the walk from the carpark down to the top of the waterfall is not difficult. However, folks with limited mobility should undertake appropriate research to see if the path is suitable for them.
There's a higher vantage point, very close to one end of the carpark that might be more suitable for anyone with limited mobility.
Gullfoss | Take Your Time And Enjoy The Moment
But don't be in too much of a hurry to reach the top of the falls. There's lots to photograph on the way down as the cascading Hvítá River drops from one level of the falls to another.
With the air full of spray, rising up from the fast moving river, Gullfoss is a very atmospheric location.
An Early Morning Visit To Gullfoss Waterfall
I arrived at Gullfoss Waterfall in the early hours of the morning but, with the benefit of around 21 hours of daylight during mid summer in Iceland, I was able to make the short trek to the falls easily and photograph without too much trouble.
With storm clouds brewing the light was quite dim so I did need my tripod. But as I was most interested in recording the movement of the water, in a scene with maximum depth of field, a tripod was a necessity.
I would expect that, maybe, one thousand tourists would visit Gullfoss waterfall on a busy day in July. Fortunately, because I was there in the middle of the night, there was only one other photographer there. And that's because he tagged along with me.
The good news is that Gullfoss is a sizable location and there are a variety of places you can photograph from.
It certainly gets crowded in the viewing area near the top of the falls. But there are numerous places along the path from which you can photograph the waterfall, the Hvítá River and the surrounding landscape.
Nonetheless, if you're serious about your photography, you might want to try and schedule your trip at a time of day when there's less people there.
Unfortunately the weather soon become quite gloomy for me and I didn't get the benefit of particularly warm light due to clouds blocking the low lying sun.
Nonetheless I'm happy with the images I made and the opportunity of being able to experience and photograph this amazing landscape location in relative isolation.
Making Photos in the Mist at Gullfoss
The amount of water flowing down the Hvítá river and over the two tiered Gullfoss waterfall is quite staggering, as is the amount of mist wafting upwards from the cascade below.
The moisture in the air can be problematic to the photographer as it can fall directly onto your camera's lens resulting in a loss of sharpness, decreased color saturation and inaccurate exposure.
In some cases actual water drops can appear as out of focus blobs on your images.
Remember to bring a number of reusable camera lens cleaning cloths, or several packs of single-use lens cleaning tissues, and be prepared to use them constantly when photographing at Gullfoss waterfall.
A handkerchief or small, microfiber cloth can also be useful in mopping up excess water off the outside of your camera equipment.
Needless to say, with all that mist, you'll want to wear a quality goretex rain jacket and shoes with excellent grip.
While protective barriers have been added over recent years at Gullfoss, I have a good friend, Trey Ratcliff, who almost fell to his death while photographing close to the edge at Gullfoss waterfall on an icy winter's day.
How to Photograph Gullfoss Waterfall?
I've long be attracted to the notion of recording movement within the bounds of a still frame. The result is often so much more creative than an image where action has been frozen.
You could start with a shutter speed of 1/8 second, though the actual shutter speed required will depend on the look you want, the velocity of the water and, of course, the brightness of the light under which you're photographing.
During my own visit the low levels of light required slow shutter speeds which was ideal for recording the movement of the fast flowing water at this most ethereal location.
Close examination of the photos in this post will show how I've varied my compositions to tell the story of this majestic location, the power of the cascading waters and the way the Hvítá River has literally cut its way through the landscape on its journey down and through the canyon below.
Together with the spray rising up from the river far below, the shape cut into the earth by the falls and the adjacent grass-laden cliff further adds to the drama of this extraordinary location.
Gullfoss Waterfall | How to Avoid Burnt Out Highlights
Just be careful to keep your highlights, with the possible exception of specular highlights, from burning out. You can do this by adjusting the exposure to ensure there's no (of few) clipped highlights falling beyond the right hand edge of the histogram.
If you're not used to working with your camera's histogram you might prefer to turn on your camera's highlight warning feature.
Commonly referred to as blinkies one or more black blobs, flashing on and off, will signal to you the parts of your photo that will record pure white, without any detail.
So why do the blinkies flash black?
Well, they're being superimposed over very light areas of your image (e.g., white water or white skies). If the blinkies were white you wouldn't notice them against those already white areas in your image.
But black blobs flashing on and off on top of white water or white sky is hard to miss. It's that fact that will encourage you to take action to avoid blown out highlights in your photos.
By reducing exposure you'll ensure the brightest parts of the image, that aren't specular highlights, don't burn out. It's easy!
When to Visit Iceland?
If you're looking for great locations to photograph the landscape, Iceland has it all. And the relatively mild weather and long summer days make July an ideal time to visit.
I have seen photos of Gullfoss in the middle of winter. It looks amazing, though you'd want to be very careful visiting at that time of year given just how slippery it can get.
Maybe, one day, I'II see you there. If it's particularly slippery you can hold my hand or, better yet, carry me.
I strongly recommend a visit to Iceland for all folks with a passion for landscape photography. At just an hour and a half drive from Reykjavik, Gullfoss waterfall should most definitely be considered as a great place to begin your exploration.
Just ensure you have at least one week on the ground. Glaciers feed waterfalls, but so does rain. And Iceland gets quite a lot of rain, even in summer.
Iceland is a remote and expensive travel destination. I strongly recommend that you try to include a few extra days into your initial itinerary.
Given often fickle weather and lots of rain, you might find those extra days could be all you need to ensure your trip includes its share of fair weather and great photo opportunities.